Escape NYC's hustle and bustle with a wellness getaway at these nearby hotels. From serene spas to farm-to-table dining, these properties offer the perfect respite for a rejuvenating retreat. Unwind, relax, and be transported to a world of peace and tranquility.
Everything in New York City moves at lightning speed, and it can be easy to feel like you're running out of breath and always on the go. But sometimes, what you really need is a break from the hustle and bustle of the city. Luckily, plenty of hotels within easy driving distance offer a serene escape from the concrete jungle. Whether you're looking for a luxurious spa experience, outdoor adventures, or farm-to-table dining, these properties have everything you need to recharge your batteries and renew your well-being. So pack your bags, hit the road, and get ready to experience the best wellness getaways In or within driving distance of New York City.
The Greenwich Hotel
Get ready to be transported to a tranquil oasis of Japanese-style luxury at the Shibui Spa in The Greenwich Hotel. This hidden gem in Tribeca is the ultimate retreat that invites you to relax, unwind, and indulge in the ultimate pampering experience. From the moment you step in, you'll feel a sense of calm envelop you, thanks to the spa's warm lighting, heated pools, and inviting day beds. Treatments are customized to suit individual needs and use botanical oils that leave the skin nourished and glowing. And if you're looking for the ultimate indulgence, the seasonal aromatherapy bath soaks are a must-try, with healing ginger-infused waters that leave you feeling refreshed and revitalized. The Shibui Spa is the perfect escape from the hustle and bustle of the city, offering an experience that's truly serene and indulgent.
---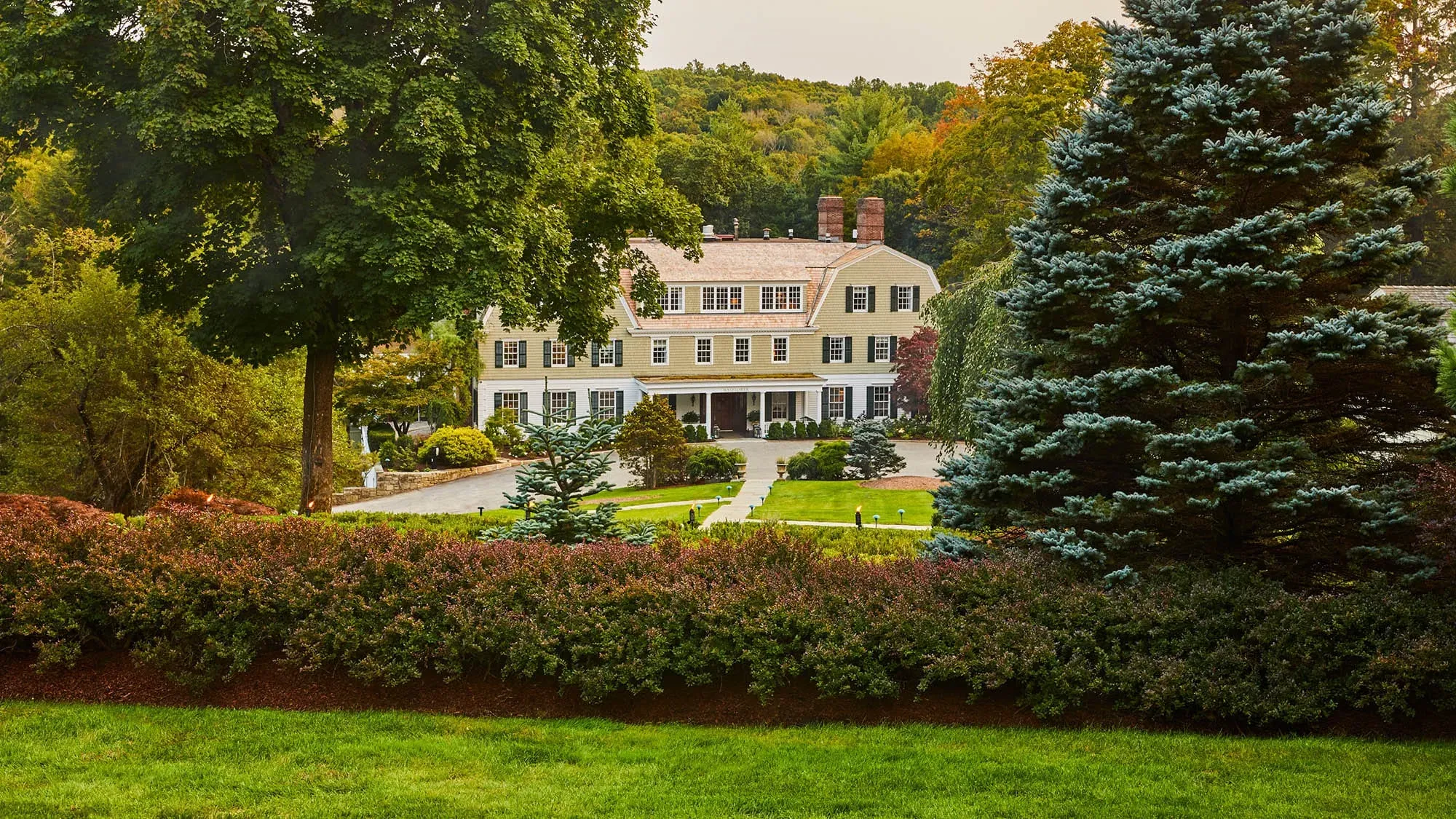 Mayflower Inn & Spa, Auberge Resorts Collection
For New Yorkers needing a break, the Mayflower Inn & Spa in Connecticut is a constant siren call. The resort's design is reminiscent of your most hospitable aunt's guest room, with feather-topped beds, overstuffed chairs, and softly printed wallpapers. From the moment you arrive, you'll feel a sense of comfort and warmth that makes it impossible to leave. The spa is one of the best in Connecticut, but the resort's 58 acres offer plenty of activities for those who prefer the outdoors. The Mayflower Dining Room and Tap Room provide delicious dining options for guests, while nearby villages offer antique shops and great food (don't miss Privet House). The Mayflower Inn & Spa is the perfect escape for anyone looking for a cozy and indulgent getaway that feels like home.
---
1 Hotel Brooklyn Bridge
Escape to Brooklyn's hip Dumbo neighborhood to this sustainable luxury oasis With breathtaking views of the East River and Manhattan skyline. 1 Hotel is eco-friendly, boasting 194 guest rooms and suites adorned with minimalist decor and reclaimed materials. The Bamford Wellness Spa is a standout retreat offering personalized organic treatments to promote relaxation and well-being. From massages and facials to reflexology and acupuncture, you can indulge in various therapies designed to nourish the mind, body, and soul. The hotel's fitness center and rooftop pool offer additional opportunities for relaxation, while the Brooklyn Heights Promenade, located just steps away, provides a picturesque walking or jogging route along the waterfront. You'll also find yourself surrounded by some of Brooklyn's best shopping and dining spots, making it the perfect choice if you're looking for a relaxing yet adventurous urban experience.  
---
Troutbeck New York
Located just two hours from New York City, Troutbeck is a wellness haven perfect for the hustle and bustle of city life. The hotel Is quaint and pulls design inspirations from the surrounding landscape, creating a sense of peace and tranquility. The 38 guest rooms are different from one another and adorned with plush bedding and custom art. The restaurant features a farm-to-table menu that's as delicious as healthy. The spa offers a range of treatments, while the fitness center and yoga and meditation classes provide opportunities to stay active and centered. The hotel's picturesque garden and forest offer ample opportunities to connect with nature and unwind. At Troutbeck, you can experience the perfect blend of unassuming luxury, wellness, and natural beauty that will leave you glowing and rejuvenated.
---
Twin Farms Vermont
A quick weekend trip to this luxurious and peaceful retreat in the serene Green Mountains is perfect for busy couples seeking a romantic, tranquil getaway to connect. With just 20 individually designed rooms spread over 300 acres, you'll have all the privacy and tranquility you need. Each room is adorned with cozy furnishings, wood-burning fireplaces, and unique artwork, creating a warm and inviting ambiance perfect for curling up with your loved one. The restaurant offers farm-to-table cuisine that highlights the freshest local ingredients, while the spa provides a range of treatments that will leave you feeling relaxed and rejuvenated. You can stay active and connected with nature by exploring the hotel's hiking trails, taking yoga and meditation classes, and taking a dip in the hotel's outdoor heated pool. Whether you're on your honeymoon, celebrating an anniversary, or just looking for a romantic retreat, Twin Farms is the perfect place for a dreamy escape.
---
Equinox Hotel New York
Equinox Hotel offers one of the best urban oasis away from the chaos of New York City, with groundbreaking and high-performing approaches to wellness. The rooms are designed with guests' regeneration in mind, including total soundproofing and integrated technology like temperature-regulating beddings to promote a great night's sleep. There's a 60,000-square-foot state-of-the-art fitness club where you can break a sweat and stay active during your stay, a therapeutic spa with Cryotherapy and an Infrared sauna, and treatments like acupuncture, IV and sleep therapy.
---
Miraval Berkshires
Miraval's latest property, a sprawling Tudor-style mansion nestled amongst the rolling hills and verdant forests of the Berkshires, is a wellness retreat that delivers in every possible way. As you approach the 380-acre property, you'll feel a calm wash over you, and it's not hard to understand why. This is the perfect place for a digital detox; the resort takes its device-free policy seriously, so you can leave your phone behind and truly disconnect from the outside world. It's a place where you can stretch your legs and clear your mind, with plenty of activities to suit your energy levels. Whether you prefer a challenging hike, a leisurely bike ride, or an invigorating paddleboard or kayak trip, the secluded trails and tranquil waters will leave you feeling invigorated and refreshed. The resort's spa menu changes with the seasons, but the Ayurvedic treatments are always on, and the masks make you feel safe and cared for during your stay. There are also plenty of opportunities for self-care, including beekeeping classes, trips to the equine center, and a yoga studio that will help you find your zen. Finish your day with a nourishing meal, always included, and prepare to do it again tomorrow. For those looking for a healthy and refreshing getaway, the perfect adult camp is called Miraval, and it's waiting for you.
---
Chatham Bars Inn, Cape Cod
For over a century,  the who's-who of America's society has called Chatham Bars Inn home when seeking a luxurious and restorative experience on Cape Cod. With a private stretch of beach, a range of wellness offerings, and world-class dining options, this oceanside resort is the perfect destination if you're looking for a truly transformative getaway. The hotel's classic New England design is elegant and welcoming, with plush beds, huge windows that offer stunning ocean views, and endless amenities that will leave you feeling relaxed and rejuvenated.  And with its exceptional dining options featuring fresh and locally sourced ingredients, you can indulge in the flavors of Cape Cod during your visit. Whether you're seeking a romantic escape or a solo retreat, Chatham Bars Inn provides the perfect setting that will leave you feeling renewed and revitalized.
---