Checking in with Sally Baughen, of Six Senses Bhutan. Learn her formula for enjoying just the right combo of the region's natural and majestic wonders.
You recently moved from working at sister Six Senses properties to becoming GM at Six Senses Bhutan. What compelled you to this location?
My midlife crisis manifested in this yearning for seasonal weather, serious mountains, clean air, and pristine nature, with few people. After a few twists and turns, I lucked out and got all I wished for with Six Senses and The Kingdom of Bhutan.
What makes your property a true standout?
We offer a personal journey to discover The Kingdom of Bhutan. Rather than a singular hotel stay, we deliver an immersive cultural safari with relaxed luxury lodges to pamper you along the way. With five contemporary Bhutanese lodges, each showcasing the diversity and character of its valley, we share the ultimate slow travel itinerary. Explore with your own guide and driver, who offer you maximum flexibility to dive deep into Bhutanese life and spirituality—go hard with maximum adventure or gently glide through this hidden kingdom's picture-perfect landscapes.
Rather than a singular hotel stay, we deliver an immersive cultural safari with relaxed luxury lodges to pamper you along the way.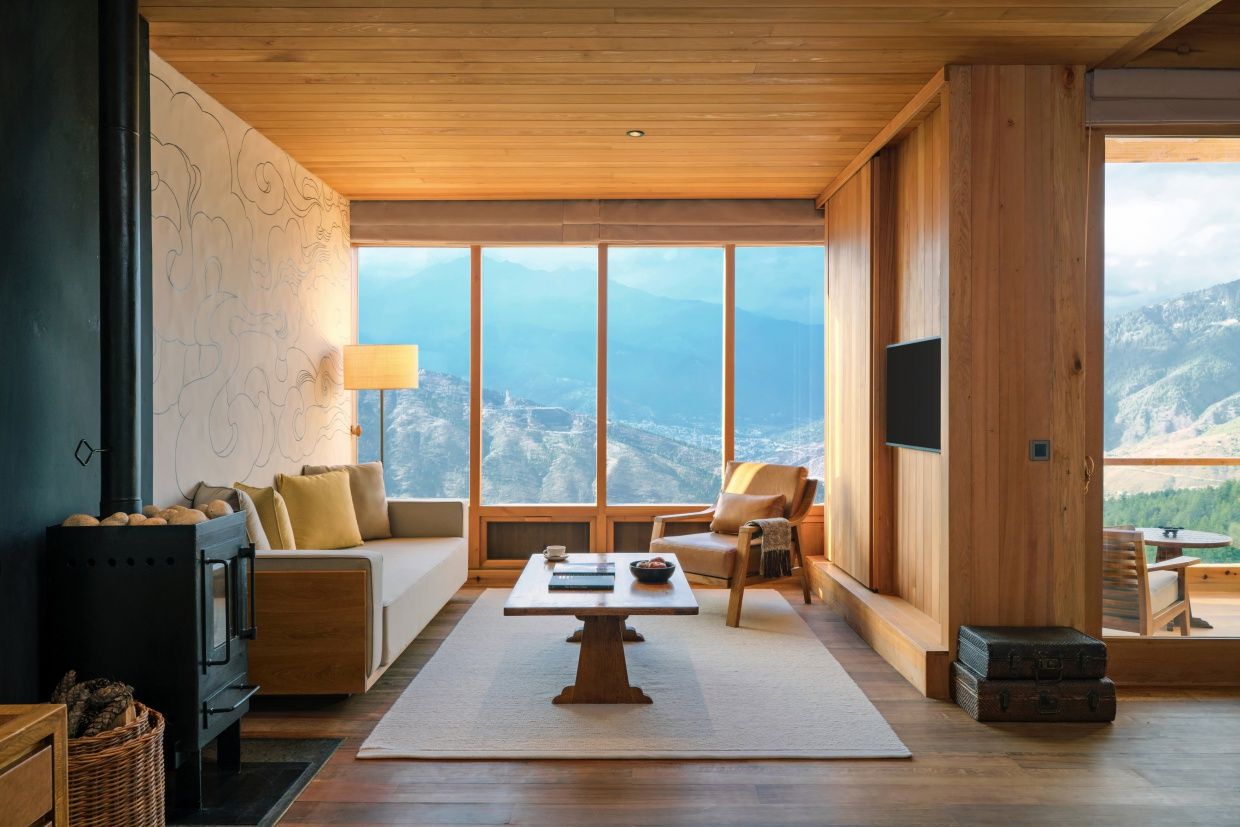 What sort of client request do you love to meet?
There's nothing like the thrill of nailing a perfect surprise moment for a guest. Whether it's a fabulous meal somewhere unexpected or a memorable day that flows from one magical moment to the next.
What is one way for guests to spend a perfect day?
Start with an early morning departure by helicopter, through scenic high-altitude landscapes, to Jomolhari Base Camp, followed by a landing at Bumdra—famous for its auspicious sky burial mountain—before a downhill hike through a secluded pine forest to Taktsang Monastery, better known as Tiger's Nest. It's definitely not for the faint of heart, nor anyone with weak knees. And, for sure, a foot and leg massage back at our Paro Lodge is an indulgent must at the end of this dream day.
What is your ideal dining experience on the property?
That is so hard to choose. Pomegranate Martini's riverside in Punakha? A cozy evening at Dechen's Farmhouse in Bumthang? Perhaps Lungsigang Afternoon Tea high above our Thimphu Lodge?
One incredible opportunity to dine and connect with some of our dear friends would be to have dinner at Talu Farmhouse in Paro. This traditional farmhouse is the former home of elders Angay and Agay. Rustic might be an understatement, but one thing everyone agrees on is that Angay and Agay are the sweetest couple ever. We were so moved by them and their story of fleeing Tibet—more than 60 years ago—across the Himalayans to Bhutan we adopted them on the spot—or vice versa—as our Paro Lodge Grandparents.
Angay and Agay will welcome you into their farmhouse for an evening to remember: multiple local dishes are prepared over a Bhutanese clay oven with optional tastings of ara (a very strong fermented rice, barley, or wheat spirit), while performers play traditional folk songs and dance. Throughout the tasting menu, Angay and Agay share their incredible tale of crossing the mountains to safety. It's heartening to know, too, that this very special experience offered exclusively to Six Senses guests also supports the couple with a monthly income.
And if we just want to stay in and order room service?
I recommend my personal go-to: a bamboo basket of freshly prepared momos. I just love our twist on these classic steamed dumplings. They are traditionally filled with spicy meat, cabbage & cheese, but we offer a variety of veggie fillings such as pumpkin & walnut, spinach & feta, and spicy beetroot—all from our organic garden.
What would you say is one of the hotel's best-kept secrets?
In Punakha, we work with a nearby monastery so that you can experience a spiritual morning with the monks. Your day begins with a hike through terraced rice fields as you ascend towards Chorten Ningpo, a monastery that dates to the 1600s. On school days, you might be joined by the local children heading up the forest path on their way to Kabesa School. The climb towards Chorten Ningpo features dramatic views as well as the statue of Maitreya, the future Buddha. Promptly at 8:30 am, you will join Lama Nado and the young monks for their main meal of the day, a traditional monastic vegetarian breakfast. Afterward, Lama Nado will show you the main temple and explain many of the artifacts, the importance of Maitreya, and the stories behind the colorful paintings that adorn the shrine and monastery walls.
Sounds like there are a lot of incredible hiking opportunities. What if we need some time to just chill out?
Well, then, you have to sink into a traditional dotsho (hot stone bath) at either Six Senses Thimphu or Bumthang. Mineral-rich stones from the local riverbeds are heated for several hours and gradually added into the wooden baths. Khempa (or artemisia, a medicinal herb used in Bhutan) combines with the minerals that are released from the hot stones in order to ease muscle pain and joint stiffness. It is the consummate remedy after a long day of hiking or exploring. Add a pre-bath body scrub of Himalayan salts and post-bath massage for the ultimate afternoon or evening spa experience. We promise to carry you back to your suite and tuck you into bed afterward. Sweet dreams are guaranteed.
What an abundance of magnificence and opulence. If you had to choose though, what is the hotel's most indulgent amenity?
All of our two- and three-bedroom villa guests are provided with their own  Traveling GEM Butler. As they get to know you throughout your stay in each valley, they provide a seamless service tailored precisely to your preferences. Matcha Latte prepared promptly each morning at 7 am? No problem. Last-minute request for a Villa BBQ on your expansive terrace with favorite cocktails? Your TGB has it sorted. Hate packing and unpacking between lodges? Easy peasy. Your TGB will pack after you leave for the day, travel separately with your luggage, and have unpacked and prepared your villa, just as you like it before you arrive at the next lodge. Personal and unobtrusive, your Traveling GEM Butler might just be your favorite memory of Bhutan!